Phone orders will be shipped via UPS within 24 hours whenever possible - Web orders within 48 hours.
Oversized orders will be shipped by truck transport or local delivery.
When necessary, factory direct shipments will be made to save time. Shipping expenses will be charged from the point of origin.
Free Shipping !
Basic shipping on all web site orders is free to addresses within the Continental United States.
Overnight, 2nd day, 3rd day select, Federal Express, Drop Ships and other fee based shipping options are also available.


UPS Guaranteed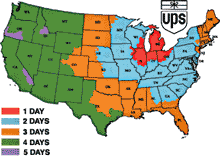 © Copyright 1998. United Parcel Service of America, Inc. Used by permission. More info at UPS.com
Orders within UPS limits will normally be shipped via UPS guaranteed ground.
Orders for in stock items received by noon will be shipped the same day, and arrive the following day (for commercial addresses in lower Michigan and northern Indiana).
Next day and 2nd day air services are available for more distant destinations.
Truck Lines
At your request, or for oversized orders or large quantities whose destination is outside our normal service area, shipments will be consigned to a common carrier LTL truck line.
Shipping expenses will be charged from the point of origin.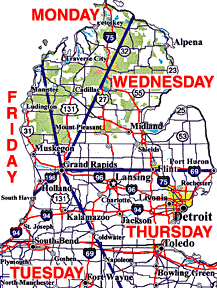 Weekly Route Delivery
Within our delivery area, oversized orders or large quantities are normally carried by our route truck to facilities and job sites.
Deliveries are made on a weekly schedule throughout our service area and daily in the greater Grand Rapids area. (See map above.)